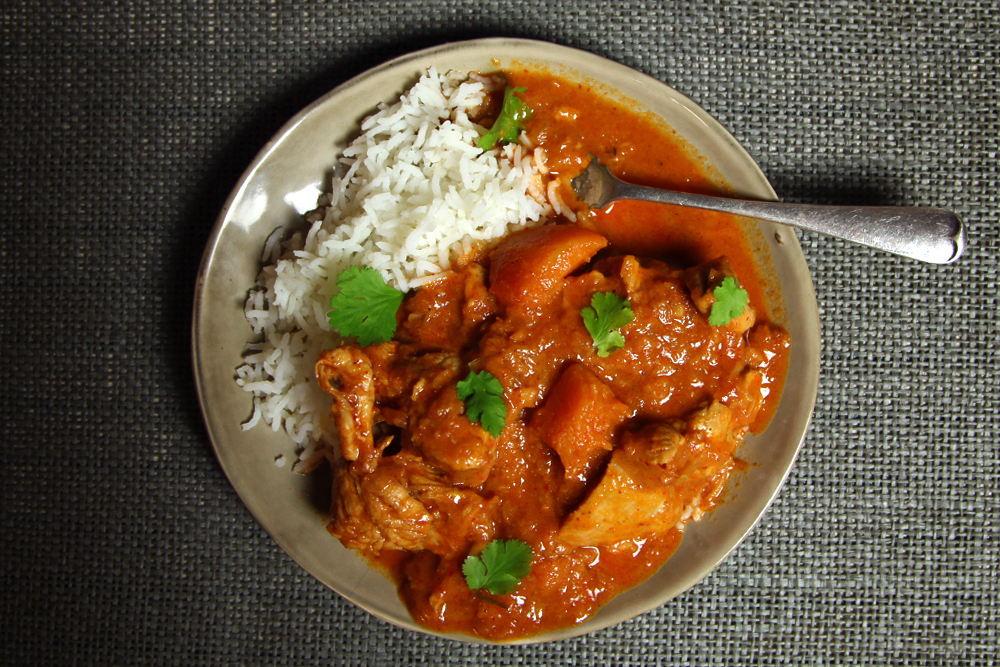 WHAT TO GET FROM YOUR BOER AND BUTCHER
800g DEBONED CHICKEN THIGHS
500ML BOER AND BUTCHER CHICKEN STOCK
1tbls canola oil
1tbls salted butter
1 large onion, chopped
4tbls of your favourite Butter Chicken Curry paste
800g Deboned Chicken Thighs – cut in large cubes
Salt and pepper for seasoning
3 cloves garlic, finely chopped
1tbls freshly grated ginger or ginger paste
1t fine coriander
1t turmeric
1 1/2cup Butternut, peeled and cubed
500ml Boer and Butcher Chicken stock
2tbls tomato paste
1tbls honey
1 tin coconut cream
Handful freshly chopped coriander
Heat a large pot, add the canola oil, butter, onion and curry paste stir to combine. Then add the deboned chicken thighs, season and stir well to coat the pieces of chicken in the curry paste. Let it slowly simmer for about 5 minutes.

Add the garlic, ginger, fine coriander and turmeric, stir. Add the butternut, chicken stock, tomato paste and honey. Mix well to combine everything.

Turn down the heat and let the curry simmer for at least 45min. The sauce must be a bit thicker and the butternut firm but not to soft.

Stir in the coconut cream. Turn of the heat and let the curry stand for at least 15 minutes.

Serve with fluffy basmati rice.