ROASTED CHICKEN WITH PORK, SAGE AND CRANBERRY STUFFING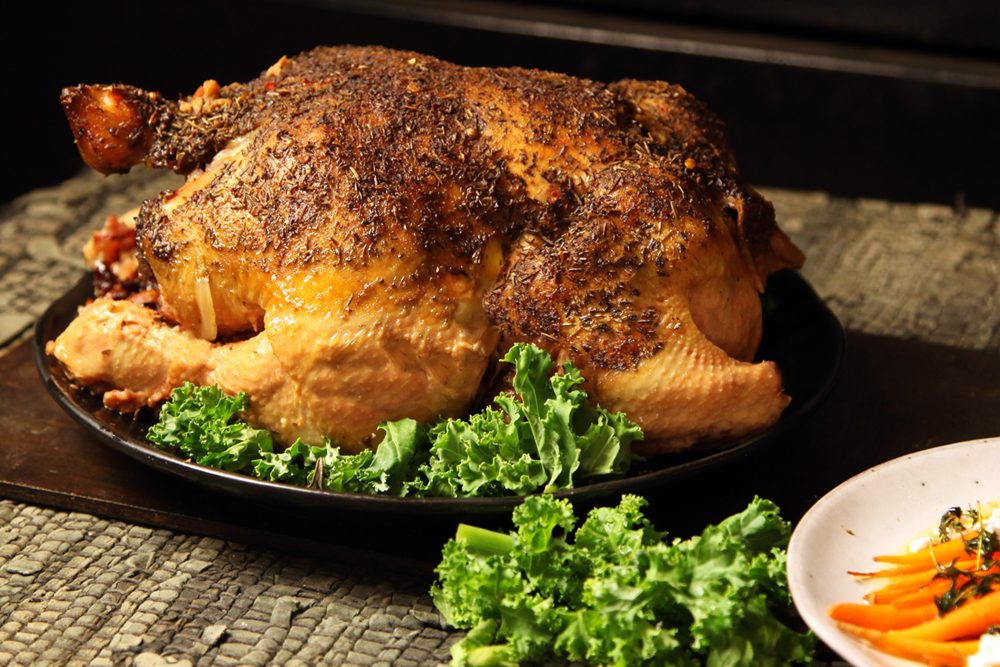 WHAT TO GET FROM YOUR BOER AND BUTCHER
1 BOERHOENDER
BOER AND BUTCHER STUFFING
BOER AND BUTCHER BBQ SPICE
1 Boer Hoender
Boer and Butcher Stuffing
A generous drizzle of olive oil
Boer and Butcher BBQ spice
Creative Cuisine Braai Rub
250ml water
Rinse the chicken with cold water and pat dry with a paper towel. Spoon the stuffing lightly into the neck and body cavities. Fold the loose skin over the stuffing. Tie the ends of the drumsticks together.

Drizzle with olive oil and season with Boer and Butcher BBQ spice and also Creative Cuisine braai rub.

Place the chicken, breast-side up, on a rack in a shallow roasting pan. Pour the water into the roasting pan.

Roast at 165 degrees for 2 1/2 to 3 hours or until the drumstick moves easily and the center of the stuffing reaches 75 degrees, basting occasionally with the pan drippings. Let the chicken stand for 10 minutes before slicing.

Pour the juices from the roasting pan into a pan. Heat over medium-high heat until it's hot and bubbling and thickens a bit. Serve the gravy with the chicken.