ROAST VEG SALAD WITH WHIPPED HERB CREAM CHEESE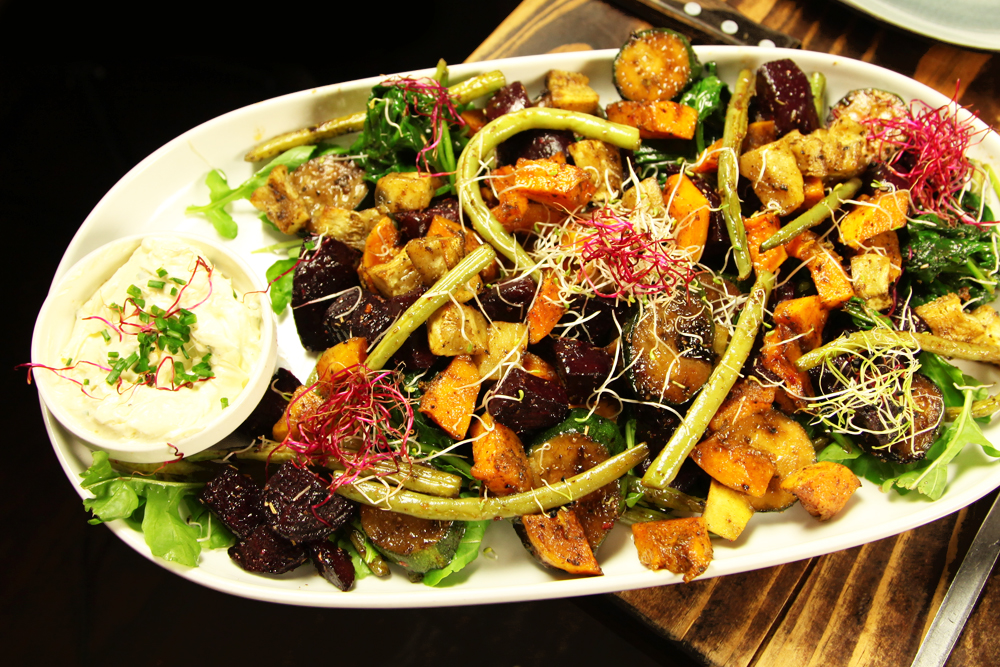 WHAT TO GET FROM BOER AND BUTCHER
WE RECOMMEND A BOER AND BUTCHER "BOER HOENDER" – WHOLE CHICKEN
• 200g baby spinach
• 5 baby marrows – sliced lengthways
• Handful green beans
• 3 cloves garlic – roughly chopped
• Balsamic reduction
• 2 tbsp olive oil
• 2 tbsp of your favourite veggie spice – we used Ina Paarman Vegetable Seasoning
• 2 sweet potatoes – cubed par boiled
• 1/2 a large butternut – peeled, cubed and par boiled
• 3 beets – par boil, peeled and cut in half
• pink Himalayan salt
• 1/4 cup feta
• 1/2 cup toasted nuts and seeded
• You can use some wild rocket as a bed for the salad if – the peppery rocket adds a nice flavour
• Whipped herb cream cheese ( see recipe in step 5 )
Preheat the oven to 200 degrees

Drizzle the par boiled butternut, sweet potato and beetroot, season with braai rub and some salt and pepper roast in the oven until golden brown, about 30 – 40min.

In a bowl, combine baby marrow, spinach and green beans with a drizzle of olive oil& balsamic reduction, 1 tsp garlic powder, veggie spice and mix together. Heat a pan to medium-high heat and toss- fry till crisp and golden, this will take about 8 – 10min Let them cool for a little bit.

Decorate your platter with all the veggies, sprinkle with feta and toasted nuts & seeds. Serve with the whipped herb cream in a separate bowl*

*100g cream cheese, a splash of milk, 1tbls fresh coriander and 1tbls parsley, 1 clove of garlic, 1tbls lemon juice, salt and pepper – blend and serve.