VENISON PIE WITH ROSEMARY AND SHERRY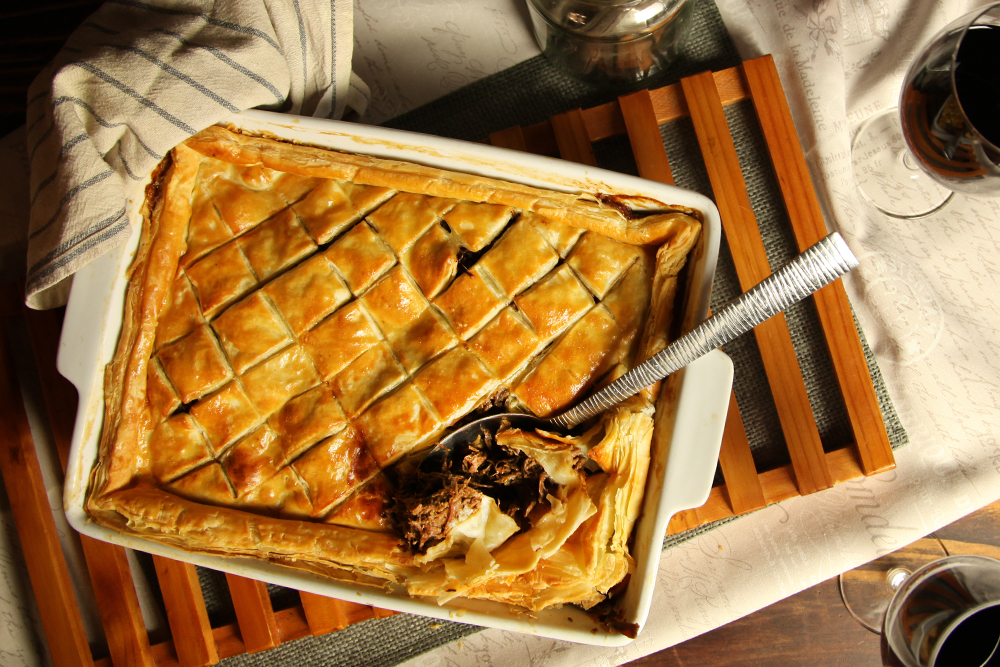 WHAT TO GET FROM YOUR BOER AND BUTCHER
1.5KG CUBED VENISON – WE USED SPRINGBOK
A JAR OF BOER AND BUTCHER BEEF TALLOW
500ML BOER AND BUTCHER BEEF STOCK
CREATIVE CUISINE BRAAI RUB
3tbls beef tallow
3 medium red onions
4 cloves of garlic
2 carrots
2 sticks of celery
1 cup of old brown sherry
1 cup red wine
2tbls tomato paste
4tbls good quality balsamic reduction – optional
2tbls fine coriander
2tbls fine cumin
2tbls Creative cuisine braai rub
500ml Boer and butcher beef stock
500ml – 750ml water
1.5 kg Cubed venison – we used springbok
a few sprigs of fresh rosemary – chopped
5-6 juniper berries – crushed
a few fresh bay leaves
a few sprigs of fresh thyme – chopped
Pastry:
1 heaped tablespoon plain flour , plus extra for dusting
350 g ready-made all-butter puff pastry
1 large free-range egg
Preheat the oven to 160°C.

Heat the beef tallow in a large ovenproof pot on low heat. Peel and slice the onions and fry gently for about 10 minutes. Don't let them colour too much.

Meanwhile, peel and chop the garlic and carrots, and trim and chop the celery.

Turn the heat up, then add the garlic, carrot and celery, fry for a few minutes.

Then add the old brown sherry, red wine, tomato paste, balsamic reduction (if using) simmer for a few minutes.

Add the rest of the ingredients, and make sure the the meat is covered in enough liquid.

Pop the lid on and place in the oven for about 2½ hours, giving it a stir from time to time.

The perfect pie filling should have tender meat in a rich, dark, thick sauce.. So if you remove it from the oven, it's still quite liquidy, place the pan on the stove and reduce for 15 minutes or so until it thickens up a bit. Let it cool.

Evenly roll out the pastry on a floured surface (not to thin). Tip the stew in the pie dish and place the pastry on top of the pie.

Criss-cross the top of the pastry lightly with a sharp knife. Brush the top with beaten egg.

Pop the pie on the bottom shelf of the oven and bake for 40 to 45 minutes, until the pastry is well cooked, puffed-up and golden – and ENJOY!