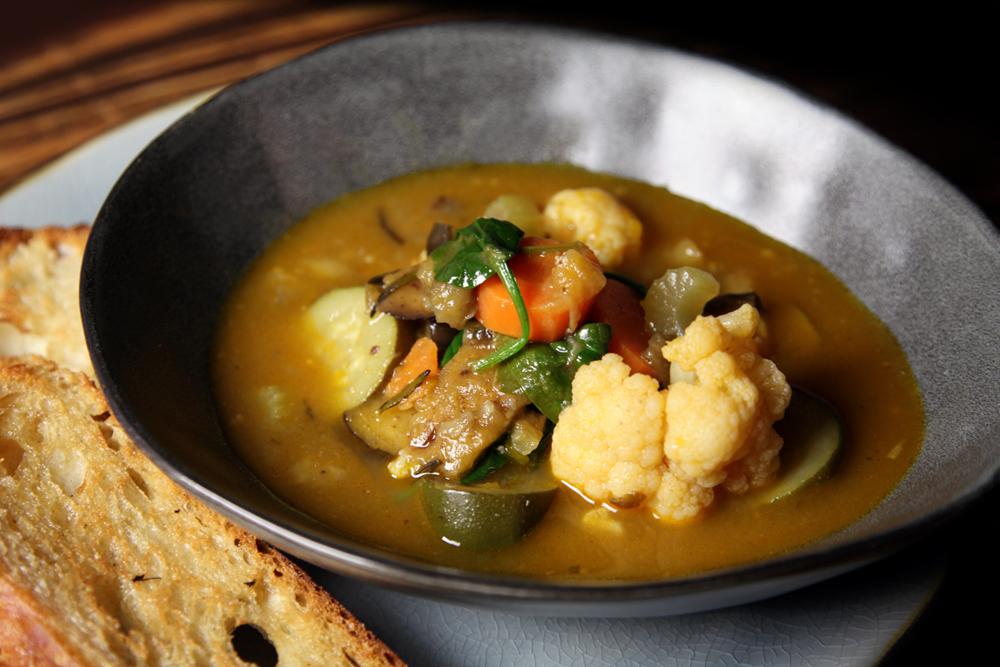 WHAT TO GET FROM YOUR BOER AND BUTCHER
1L BOER AND BUTCHER VEGETABLE STOCK
1 tbls canola oil
2 tbls salted butter
3 cloves garlic, minced
1 brown onion, diced
1 tbls fine coriander
1tbls Smoked paprika
Pinch of nutmeg
2 stalks celery, diced
2 cups carrots, peeled and sliced
1 cup cauliflower florets, cut into smaller pieces
1 cup baby marrow, cut into smaller pieces
2 cups baby spinach
2tbls fresly chopped basil
2tbls freshly chopped origanum
2 bayleaves
1 tin diced tomatoes
1L Boer and Butcher

 

Vegetable stock
1/2t salt, plus more to taste
1/2t pepper, plus more to taste
1 tin red kidney beans
A sprinkle of Ina Paarman Italian Cheese Sprinkle when serving- optional
Toasted ciabatta, to serve, optional
Heat the oil and butter in a large soup pot over medium heat. Add the garlic, onion, fine coriander, smoked paprika and nutmeg. Sauté until soft and fragrant, about 5 minutes.

Add celery, carrots, cauliflower, baby marrows, baby spinach, basil, origanum, bayleaves, diced tomatoes and vegetable stock, stir, cover and bring to a boil.

Reduce the heat and let it simmer for 30min or until the carrots are soft. Season with salt & pepper.

Stir in the kidney beans, simmer for about 3min.

Pour the soup into bowls and sprinkle with Ina Paarman Italian Cheese sprinkle, if desired.

Serve with warm toasted ciabatta bread.