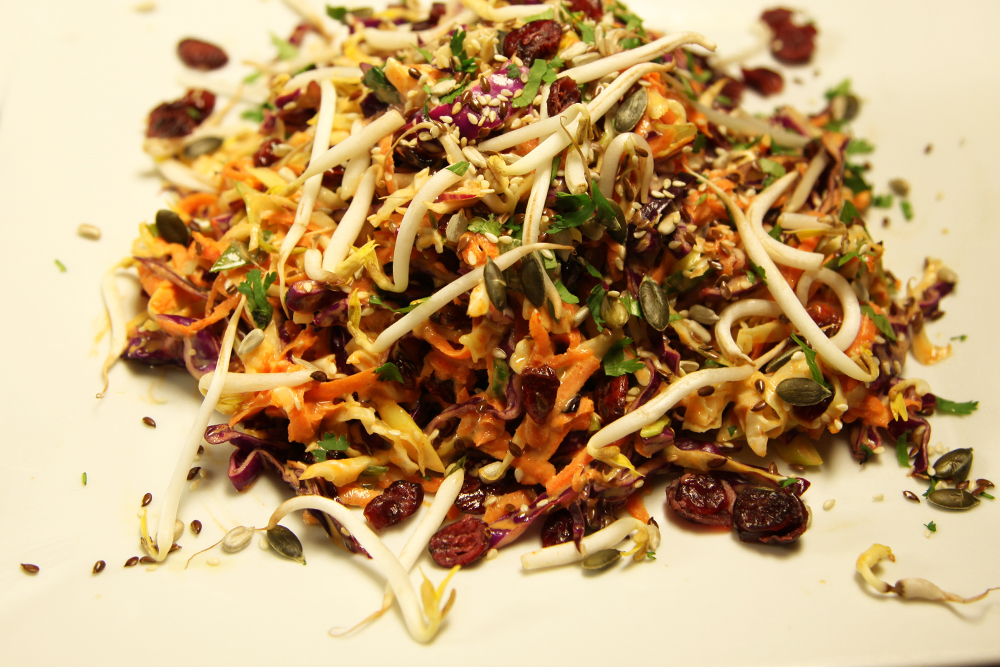 WHAT TO GET FROM BOER AND BUTCHER
WE RECOMMEND A PORK NECK STEAK OR STICKY BBQ RIBS WITH THIS SALAD
• 150g white cabbage – finely shredded
• 150g red cabbage – finely shredded
• 2 peeled and grated carrots
• 1 sml green apple – diced
• 30g freshly chopped coriander – extra for garnish
• Juice of one large lemon
• 2tbls sesame oil
• 2tbls sriracha sauce
• 1/2c Be Well Creamy Mayo
• 1 cup Double Greek yogurt
• 2tbls honey
• 1c Cranberries
• 1/2c Toasted mixed seeds ( sunflower, pumpkin seeds, sesame seeds, linseeds ect )
• Large handful bean sprouts – to garnish
• Salt and freshly grated pepper
Place the shredded cabbage, grated carrot, apple, chopped coriander, lemon juice and sesame oil in a large bowl and toss to mix.

In a separate bowl stir sriracha, mayo, greek yogurt, honey, salt and peper.

Pour the sauce over the cabbage mix, mix well.

Scatter the cranberries, seed mix and sprouts on top and serve.