PULLED PORK STUFFED SWEET POTATOES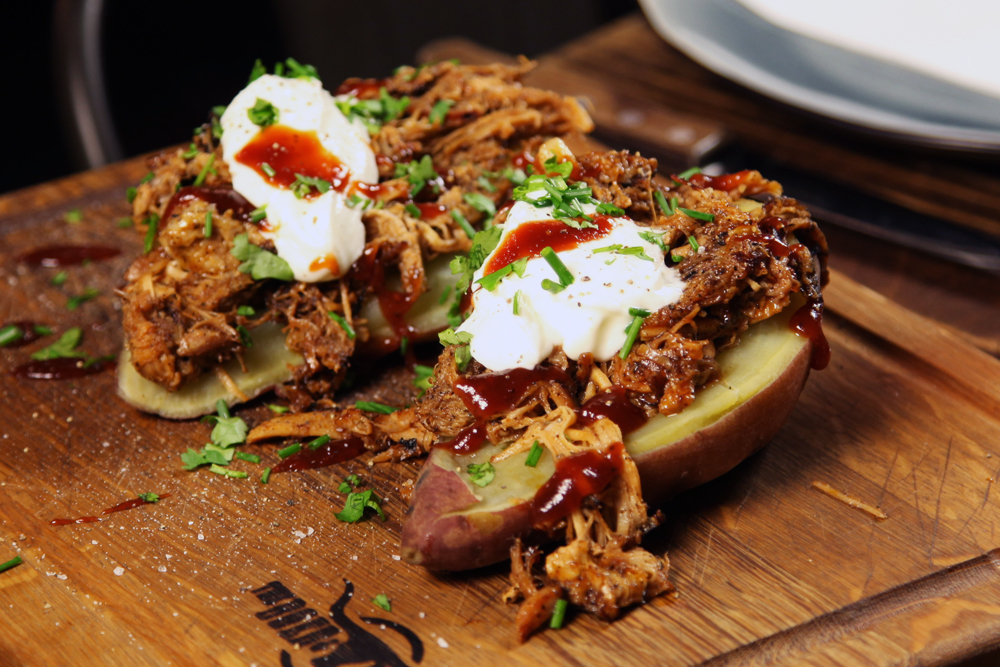 WHAT TO GET FROM BOER AND BUTCHER
BOTTLE OF SWEET BABY RAY'S ORIGINAL SAUCE
BOER AND BUTCHER PORK BELLY
500ML BOER AND BUTCHER CHICKEN STOCK
• 1.5kg pork belly – bone out, skin score in criss-cross pattern – ask the butcher to do this for you
• 1 onion – roughly diced
• 1 carrot – diced
• 2 ribs celery – diced
• 5 cloves garlic – crushed
• 500ml Chicken stock
• 8 Medium sized sweet potatoes
For the coffee rub:
• 2tbls ground coffee or instant coffee
• 1/2t salt
• 1tbls black pepper
• 1tbls brown sugar
• 1tbls garlic powder
• 1tbls ground ginger
• A drizzle of oil to mix everything to form a paste like consistency
Garnish:
• 1t double greek yogurt per sweet potato
• Freshly chopped coriander
• Sriracha sauce & extra Sweet Baby Ray's to drizzle
Pre-heat the oven to 120 degrees.

Massage your belly with the coffee rub. And place onion, carrot and celery in a oven proof dish, pour the stock in and place the belly on top of the veggies and stock. Cover with foil and place in the oven. Cook low and slow, double check that the belly always has liquid.

While the pork is cooking, boil your sweet potatoes, until they are easily pierced with a knife.

Remove the pork from the oven, discard almost all the sauce from the pan leaving just enough to moisten the pork. Pull the pork and drizzle with a generous amount of Sweet Baby Ray BBQ sauce. Taste and season if needed.

When ready to serve, cut a slit in the sweet potato, lengthwise. Grab the potato from both ends and press together to open the sweet potato up. Fill with a generous helping of pulled pork, top with a spoon of double Greek yogurt, a drizzle of sriracha, Sweet Baby Ray's BBQ sauce and a sprinkle of chopped coriander.